Kurt Nimmo
Infowars
Ocotber 4, 2012
According to sources at the Israeli intelligence asset
DEBKAfile
, Turkey is attempting to cut a ten kilometer "buffer strip" with continuous artillery barrages on the Syrian side of the border.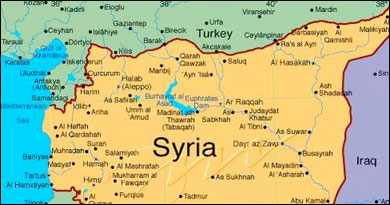 "Constrained from a substantial military incursion into Syria by
US President
Barack Obama's veto and Saudi and Qatari refusals to help pay for it, Turkey's government and military decided to make do with carving out a buffer strip 10 kilometers deep into Syria by continuous artillery barrages," the website reports today.
The targets appear to be strictly military, although little is known about the situation due to media blackouts by both Turkey and Syria.
On Thursday, Turkey's parliament overwhelmingly approved legislation permitting the military to engage in cross-border operations into Syria territory. "The Turkish response to the Syrian shelling was swift – it fired salvos of artillery rounds inside Syria, contacted its NATO allies and convened Parliament for a vote authorizing further cross-border military operations if necessary," the
Associated Press
reports.
Syria meanwhile has assured the United Nations that it is not seeking an escalation of violence. Ambassador
Bashar Ja'afari
said the Syrian government will not admit responsibility and apologize for the shelling that killed five on the Turkish side of the border until an investigation of the incident is complete.
Read More