Duplicity designed to get foreign regimes to lower their guard
Kurt Nimmo
Infowars.com
September 3, 2013
On Sunday, Secretary of State John Kerry
compared Bashar al-Assad to Adolph Hitler
.
Kerry said the Syrian leader "now joins a list of Adolf Hitler and Saddam Hussein who've used these weapons in a time of war," a reference to the as of yet unproven accusation that the government of Syria used chemical weapons on its own people. Despite a lack of evidence, Kerry insists "the case gets stronger by the day" for a military attack aimed at al-Assad and his regime.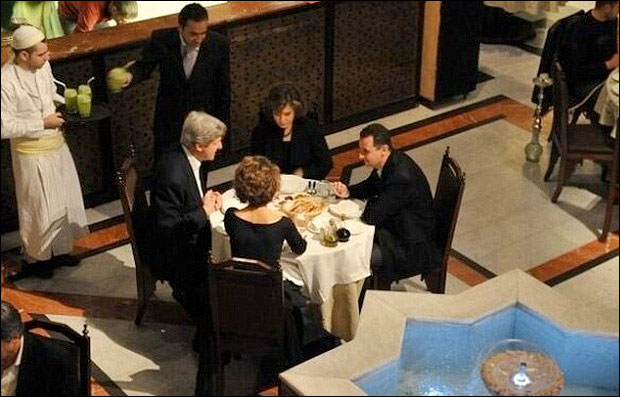 Kerry twisted historical fact to fit the Obama administration's pre-war rhetoric. Hitler and the Nazi Army didn't use chemical weapons in battle during the Second World War. In fact, Hitler was a victim of a chemical weapon attack. He was gassed at the Ypres Salient in 1918 during the First World War. Hitler was temporarily blinded by a British mustard gas shell.
Winston Churchill
and the British were great admirers of chemical weapons. "I do not understand this squeamishness about the use of gas," Churchill wrote in 1919 as then colonial secretary. "I am strongly in favor of using poisoned gas against uncivilized tribes" in British occupied Iraq.
It is true Saddam Hussein used chemicals weapons. The Reagan administration and the U.S. Department Commerce made sure Iraq received all the biological and chemical weapons it required. Phillips Petroleum, Unilever, Alcolac, Allied Signal, the American Type Culture Collection, and Teledyne sold the materials with the blessing of the United States government.
I wrote about this
in late 2002 as the Bush administration ran its Iraq weapons of mass destruction scam as a pretext to invade the country, an endeavor that eventually killed more than a million Iraqis (piled atop more than a
million previously killed
under sanctions) and that ultimately resulted in the execution of the
CIA dupe
Saddam Hussein.
Now we learn that the
CIA helped Saddam Hussein attack Iran with chemical weapons
in the 1980s during the Iran-Iraq war. 20,000 Iranian troops were killed by mustard gas and nerve agents including sarin and 100,000 were wounded.
Read More