Claims Iran and Hezbollah coordinating attacks
Kurt Nimmo
Infowars.com
September 6, 2013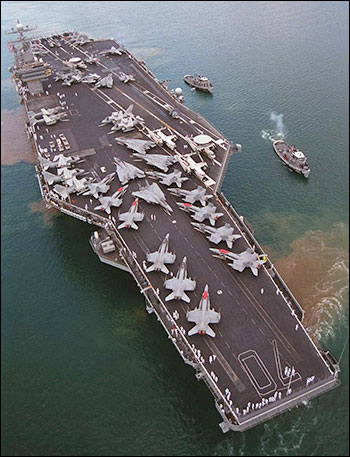 USS Nimitz. Photo: fas.org
The United States is prepared to do battle with Iran and Hezbollah when it takes out Syria in response to its alleged weapons of mass destruction, according to the
Wall Street Journal
.
Late Thursday, the newspaper reported the U.S. government "intercepted an order from Iran to militants in Iraq to attack the U.S. Embassy and other American interests in Baghdad in the event of a strike on Syria," one of "an expanding array of reprisal threats across the region."
The intercepted message purportedly came from Qasem Soleimani, the head of Revolutionary Guards' Qods Force, and was delivered to Shiite militia groups in Iraq, according to U.S. Officials. "In it, Mr. Soleimani said Shiite groups must be prepared to respond with force after a U.S. strike on Syria. Iranian officials didn't respond to requests for comment," the Journal reports.
The U.S. predicts Iran will mobilize its fleet of fast boats in the Persian Gulf where U.S. warships are stationed.
Read More