RT
October 4, 2013
The August chemical weapons attack in the Syrian capital's suburbs was done by a Saudi Arabian black operations team, Russian diplomatic sources have told a Russian news agency.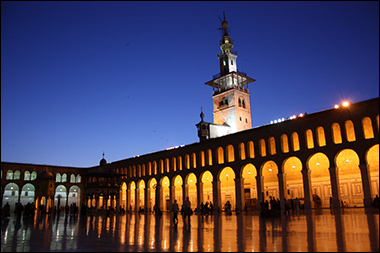 Umayyad Mosque in Damascus
Credit: Arian Zwegers via Flickr
"Based on data from a number of sources a picture can be pieced together. The criminal provocation in Eastern Ghouta was done by a black op team that the Saudi's sent through Jordan and which acted with support of the Liwa Al-Islam group," a source in the diplomatic circles told Interfax.
The attack and its consequences had a huge impact on the Syrian situation, another source said.
"Syrians of various political views, including some opposition fighters, are seeking to inform diplomats and members of international organizations working in Syria what they know about the crime and the forces which inspired it," he told the agency.
Liwa Al-Islam is an Islamist armed group operating near Damascus headed by the son of a Saudi-based Salafi cleric. The group claimed responsibility for the bombing of a secret governmental meeting in Damascus in July 2012 that killed a number of top Syrian officials, including Defense Minister Dawoud Rajiha, his deputy Asef Shawkat, and Assistant Vice President Hassan Turkmani.
Read More