Press TV
Oct. 11, 2013
North Korea has slammed the three-nation naval drills involving US, South Korean and Japanese warships, threatening to 'bury in the sea' a US aircraft carrier.
The Friday warning came a day after the US started a two-day joint military exercise with South Korea and Japan off the southern coast of the peninsula.
The nuclear-powered aircraft carrier USS George Washington, guided-missile ships, anti-submarine helicopters as well as early warning aircraft are involved in the naval drill.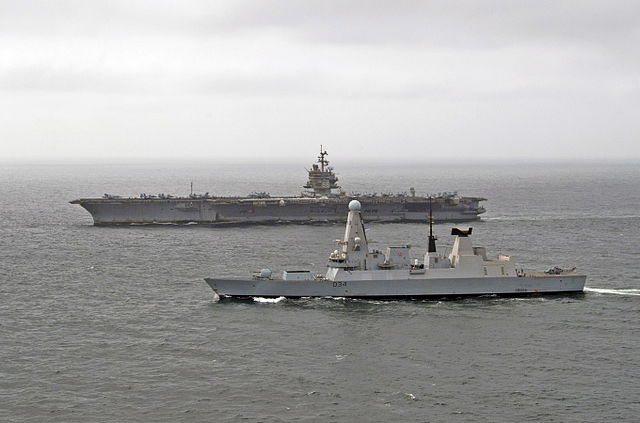 USS Enterprise sails alongside Type 45 destroyer HMS Diamond as the two vessels exercised together in the Middle East / 8 August 2012
North Korea's Committee for the Peaceful Reunification of Korea said in a statement, "The war drills show that the US-Japan-South Korea tripartite military alliance has developed into the nuclear war alliance and has become operational in actuality."
The statement warned that if the three nations launch a nuclear war "while talking about 'sign' and 'preemptive attack' despite repeated warnings of (North Korea), its revolutionary armed forces will immediately mount counter-attack to bury the aggressors, provocateurs in the sea together with the carrier."
Meanwhile, Russia has also warned against military buildup in the region.
Read More