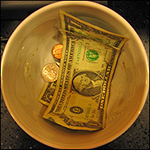 Credit: H.L.I.T. via Flickr
John Aidan Byrne
New York Post
November 19, 2013
American business has become a gray area. As in hair color.
Call it the new American nightmare: Running out of money in retirement is scaring the hell out of record numbers of older workers, forcing them to stay in the workforce.
Now 80 is the new 60 when it comes to retirement. Many older workers who finally clock out have sharply underestimated their financial needs in retirement, raising the specter of personal financial disaster.
Read more