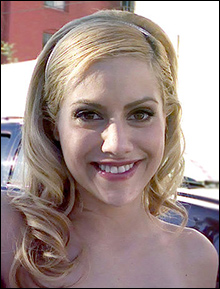 Actress Brittany Murphy / image by Luisa Pisani
David Gardner
Daily Mail
November 19, 2013
Brittany Murphy's father has sensationally claimed that the tragic 'Clueless' actress was poisoned to death after offering her celebrity backing to a whistleblower fighting the government.
Angelo Bertolotti, 87, alleges that at the time of her death his daughter was under surveillance from shadowy government operators who wiretapped her phone and terrorized her after she spoke out in support of a Department of Homeland Security whistleblower.
Julia Davis, who claims to have once worked as a stunt double for Angelina Jolie, says Brittany was being persecuted for standing up for her.
Davis claimed she was branded a 'domestic terrorist' after she exposed security flaws that were allowing terrorists to sneak into the U.S. while she was working as a border security guard in California.
Read more