Associated Press
November 13, 2013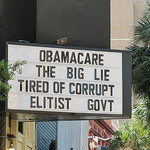 Health insurer Anthem Blue Cross of California has agreed to a two-month extension of about 104,000 individual policies after failing to give the required 90-day cancellation notice, state Insurance Commissioner Dave Jones announced Tuesday.
The policies had been set to expire on Dec. 31 but will be extended until Feb. 28 for those who choose to re-enroll. Notices informing customers of the extension will be sent out this week, Anthem said.
Jones said the company notified the Department of Insurance that it failed to give enough notice because of a computer glitch and voluntarily offered to extend the policies.
Read more