RT
November 20, 2013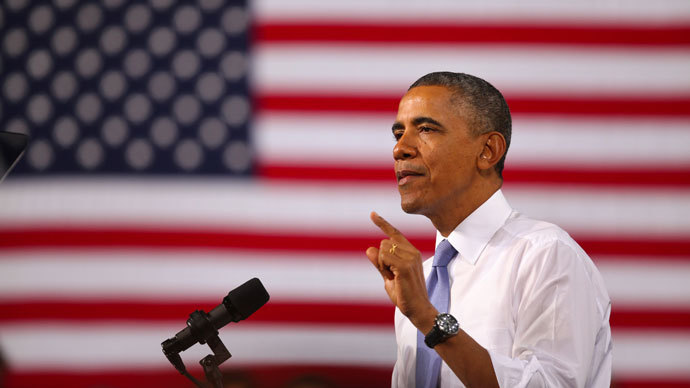 U.S. President Barack Obama.(AFP Photo / Michael Francis McElroy)
Two major military-related groups, Officers of Russia and Soldiers' Mothers, have addressed the Nobel Committee with a request to evaluate the inhumane statements made by the US president about drone warfare.
"I would like to bring to your attention that [we] were surprised and outraged by
the statement made by the Nobel Prize laureate and US President Barack Obama
quoted in the book 'Double Down' by Mark Halperin and John Heilemann," the head of the Officers of Russia NGO, Anton Tsvetkov, wrote in the letter to the committee, Infox.ru quoted.
"While discussing the use of drones in counter-terrorist operations in a closed conference with his aides, Barack Obama cynically noted he was 'very good at killing people.' In connection with this we ask you to give an official legal and moral assessment of Barack Obama's words concerning their compatibility with the high title of the Nobel Peace Prize laureate," he added.
Tsvetkov told reporters at a press conference in Moscow that military professionals in his organization were strongly against the use of drone aircraft in combat as this weapon often causes casualties among civilians. He claims the Officers of Russia possess information proving that Obama personally sanctioned the combat use of drones during missions in Pakistan, Yemen, Afghanistan, Somalia and other countries.
The chairwoman of the Soldiers' Mothers Committee, Flora Salikhovskaya, said that her group supports this address, adding that solving all problems through military force has become Obama's trademark.
Read More