NYPD will deploy heavily armed officers, canines, radiation detectors and more
Adan Salazar
Infowars.com
December 11, 2013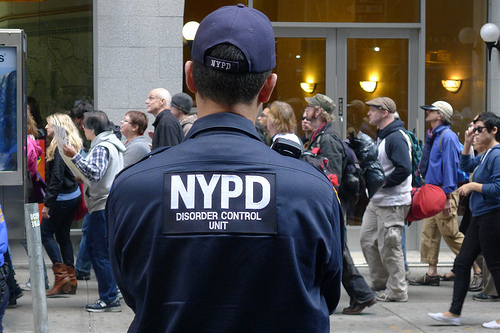 Image via Flickr, by vandalog
The New York City Police Department will deploy gun boats, as well as arm officers with "heavy weapons" in the week prior to the Super Bowl, efforts the department claims will "protect the public," deter terrorists and prevent them from conducting reconnaissance.
They also plan to use radiation detectors, canine teams and "heavily visible" Hercules foot patrols, along with closed-circuit TV cameras to thwart evil doers looking to rain on Super Bowl festivities.
The heavy-handed show of force is in support of NYC's
Super Bowl Boulevard
, a weeklong jumble of football related activities sponsored by GMC set to take place within a cordoned off 14-block expanse running along Broadway in Manhattan.
"As always the NYPD is taking a multilayered approach to protect the public at these events. Many of the technologies and procedures that we will be employing throughout this period are already being used throughout the city on a daily basis," said Counterterrorism Bureau Inspector John O'Connell at a conference Tuesday, according to
Bloomberg News
.
Read More