Ria Novosti
December 11, 2013
Russia's military will have 500,000 soldiers serving on professional contracts within a decade, Defense Minister Sergei Shoigu said Tuesday.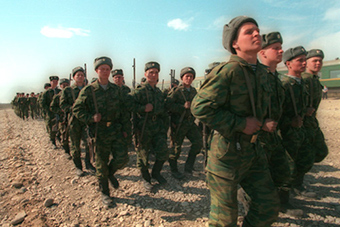 Credit: kremlin.ru
Half of the armed forces will be made up of professional service personnel by 2022 under plans to shift away from conscripts and more than double the number of contract soldiers from the present 220,000.
But Shoigu also acknowledged at an expanded meeting of the Defense Ministry Board that Russia's armed forces are currently short of nearly one in five troops.
"At present, the Russian military has 82 percent of the required manpower," Shoigu said.
"We have prioritized full manning of airborne, special forces, naval infantry and peacekeeping units, including those involved in ensuring security during the Winter Olympics in Sochi."
Read More