RT
January 14, 2014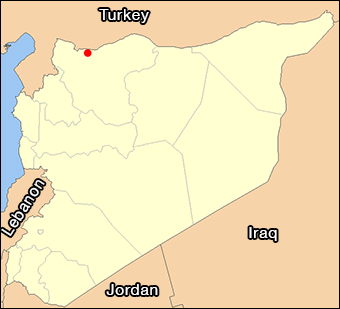 Base image: NordNordWest via Wiki
The Islamist State of Iraq and the Levant has killed dozens of rival Islamist rebels in Syria over the last couple of days as the Al-Qaeda-linked group regained most of the territory it lost in the northeastern Raqqa province, according to activists.
Up to 100 rebel fighters from the Nusra Front, another Al-Qaeda-linked group, and Ahrar al-Sham brigade were executed after being captured by Islamic State of Iraq and the Levant (ISIL) in the town of Tel Abiad, on the border with Turkey, Reuters quoted activists as saying.
"About 70 bodies, most shot in the head, were collected and sent to the Raqqa National hospital," an unnamed activist said. "Many of those executed had been wounded in the fighting. The fact that Nusra Front and Ahrar al-Sham are ideologically similar to the ISIL did not matter."
The in-fighting between rebel groups and ISIL intensified over the past week. The Britain-based Syrian Observatory for Human Rights stated on Saturday that at least 482 people were killed since the fighting between moderates and mainstream rebel factions versus ISIL intensified on January 3.
Read More