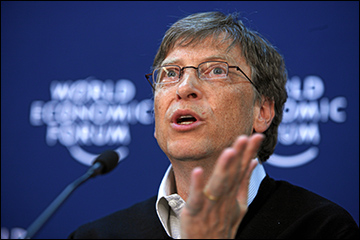 Gates speaks at 2008 World Economic Forum / Photo by Andy Mettler
Eric Owens
Daily Caller
March 23, 2014
Billionaire software tycoon Bill Gates has poured millions of dollars into efforts to develop and promote the Common Core State Standards Initiative, a set of K-12 math and language arts curriculum benchmarks and high-stakes standardized tests now being implemented in 46 states.
Strangely enough, though, Common Core isn't quite good enough for Gates and his wife, Melinda, when it comes to the education of their own three children.
Diane Ravitch, a self-styled education policy iconoclast who tends to oppose Common Core (and charter schools, and much else),
noted this irony on her blog
earlier this week.
Read more