RIA Novosti
May 14, 2014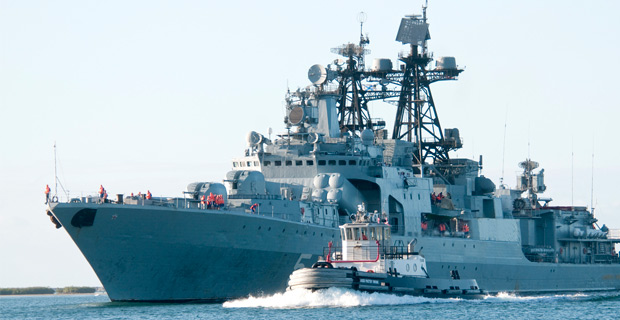 A Russian Pacific Fleet squadron, led by the guided-missile cruiser Varyag, sailed from Vladivostok on Wednesday to participate in the Russia-China exercises "Naval Interaction 2014," a military spokesman told RIA Novosti.
The squadron, which also includes the large anti-submarine ship Admiral Panteleyev, the large amphibious ship Admiral Nevelskoy, the destroyer Bystry, the tanker Ilim and the sea-going tugboat Kalar, is heading to Shanghai, said Capt. 1st Rank Roman Martov.
"Upon arrival, sailors will take part in the joint Russia-China exercises in the South China Sea," he said.
Six Chinese ships and vessels will be involved in the drills, according to Martov.
The drills come as Russian President Vladimir Putin is due to arrive in Shanghai on an official visit May 20 to cement economic ties with China, including on energy, the Kremlin said.
This will be the two countries' third such joint training exercise this year, aimed at strengthening the cooperation of their fleets and the ability to withstand various threats in open water.
Last year, the drills of the kind took place in July in the Sea of Japan and involved about 20 ships and vessels from both sides.
Read More